Journaling with Pints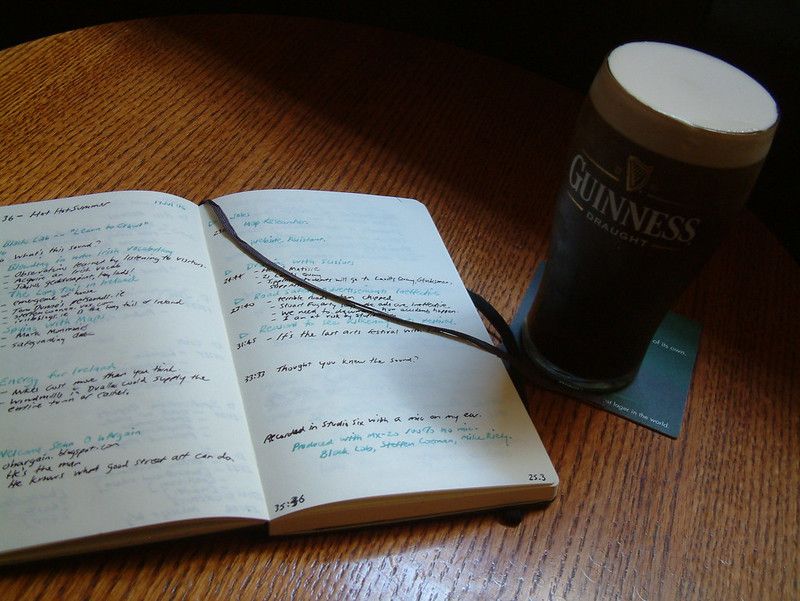 I have visited Irish pubs with creative media students, asking them to observe and write about what they see, hear, feel, and smell. These are important skills because few creative multimedia students begin their studies with the ability to check out their immediate environments. I think it's important to stop and try the analog journaling thing, and I try to sketch a note, not just write down a thought. It's also important to sit down at regular intervals to annotate ideas.
Ideas have short shelf lives because we can forget them even before starting in on our second pint. I take audio notes and also spend time doodling with ideas. "Book them," advised Mick Wilson the art cynic. So I take notes and I take inspiration from Leonardo da Vinci, arguably history's most famous note-taker. I have a copy of sketches from one of his notebooks, sketches on nature, art, engineering, and architecture. Back home on the east coast of the US as a high school student, I thumbed through a few of Thomas Edison's scruffy notebooks. I learned by looking at these samples of work.
From IdeaSpotting comes some other thoughts about better design through reflective thought.
Canadian designer Bruce Mau says, "The single most necessary device for me is a notebook. I just plow through notebooks."
Gail Anderson, Rolling Stone alumna and current SpotCo art director, calls herself a note-taker and language observer. "I love making notes about type I've seen on store signs or on sides of buildings," she says.
Note-taking gives the creative process time to breathe, says Erin Whelan, Real Simple art director. "I love recording really out-there ideas," she says. "It's so great to start at crazy places and then reach middle-ground, smart solutions."
Eva Maddox, principal of Perkins + Will, has a journal in hand when she travels, but not for writing. "I draw," she says. "I draw at least one picture in my journal each day."